2023 Cadillac CT5-V vs 2023 Volvo S90: A Luxury Sedan Showdown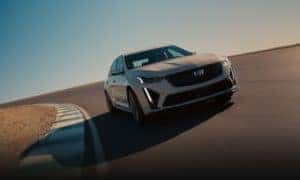 If you're in the market for a sports sedan with excellent performance and premium features to match, you've likely come across both the 2023 Cadillac CT5-V and the 2023 Volvo S90. While both of these luxurious models offer an overall elegant experience, we believe that the Cadillac CT5-V wins out due to its immaculate power and tech features. To learn more, continue reading or visit LaFontaine Cadillac today.
Performance Comparison
When it comes to the sheer numbers, the 2023 Cadillac CT5-V offers both more power and more versatility than the competition. The Volvo S90 comes standard with a 2.0-liter Turbo four-cylinder that's capable of 295 horsepower and 310 lb-ft of torque, while the Cadillac CT5-V delivers a massive 360 horsepower and 405 lb-ft of torque from its 3.0-liter twin-turbocharged V6.
Both of these sports sedans have available engines for extra power – if you go for the CT5-V Blackwing, you'll receive a hand-built Supercharged V8 capable of an unmatched 668 horsepower and 659 lb-ft of torque. However, if you're looking for efficiency over power, the Volvo S90 offers plug-in hybrid options while the Cadillac sedan does not.
The Interior Difference
While both of these models are considered luxury sedans, they have cabins that vary greatly in terms of look and feel. The 2023 Cadillac CT5-V features an interior that takes inspiration straight from the racetrack, including carbon fiber accents and available Torch Red seat belts. On the other hand, the 2023 Volvo S90 offers a more refined experience that includes a handcrafted gear shifter made out of genuine Swedish crystal and a panoramic roof.
Seat materials differ between these two models as well – the Volvo S90 features elegant Nappa leather while the Cadillac CT5-V has available Carbon Fiber-accented front seats with optimized ergonomics if you opt for the Blackwing model.
Visit LaFontaine Cadillac to Learn More
If you have any questions about the 2023 Cadillac CT5-V, stop by our Cadillac dealership near Highland, MI, today. After you've gotten a chance to test drive the model and made your final choice, the experts at our Cadillac finance center can help you finalize the deal. Come see us today for more information!