An Explanation of Monthly Payments and Installment Payments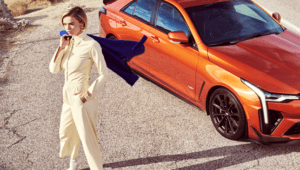 Our Cadillac dealership should be your destination if you have any questions about automotive topics like Cadillac financial or Cadillac service. If you're curious about Cadillac financing, the pros in our Cadillac finance center will answer all your inquiries.
When they contact our Highland Charter Township, MI Cadillac dealership, some drivers use the terms "monthly payments" and "installments" interchangeably. While that's understandable because many people refer to auto loan payments as monthly payments, it's incorrect to do so. Monthly and installment payments aren't the same, and a car loan payment is actually an installment payment that happens to be made on a monthly basis.
Installment Payments
If you're looking for pre-owned Cadillac cars for sale, you may decide to finance the luxury model you choose to purchase from our location. Financing is a wise move for motorists who want to reserve their savings for emergencies and/or other investments. When you finance a new or pre-owned automobile, you enter an arrangement in which you'll make installment payments until you pay off your auto loan.
Arrangements involving installment payments enable consumers to make pricey purchases without having to pay for them in full up front. These arrangements typically involve an interest rate, even if that rate happens to be zero for people with solid credit scores. They also have an end date by which the related debt must be paid off in full.
Monthly or Recurring Payments
While drivers who secure financing through LaFontaine Cadillac will make their car loan payments every month, those payments aren't recurring payments. Monthly or recurring payments are payments made for ongoing services. Although these payments may increase every year or so, recurring payments are static month to month. Vendors typically charge a person's credit or debit card or withdraw recurring payments from the individual's bank account every month with the consumer's permission.
Whereas car loans and mortgages require people to make installment payments, things like continuous gym memberships and streaming services like Netflix are things you'll make recurring payments for. Unlike installment payments, recurring payments don't have a defined end date because you'll continue to pay for a given service for however long you continue to subscribe to it.
Charitable Donations
Gifts made to tax-exempt charities are an exception when it comes to monthly and installment payments. While the payments are normally distinct, you can make either type of payment to make donations to non-profits.
Learn More About Cadillac Financial
Are you ready to sign up for installment payments on the Cadillac model of your choice? Apply for Cadillac financing now.