Basic Car Service and Full Car Service, Explained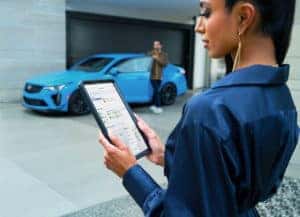 Basic car service and full car service share the same overall Cadillac service goal: to optimize your car's efficiency, performance, and ultimately, its mileage. However, there are some key differences between the two that are helpful to understand.
What is Basic Car Service?
Basic car service includes all the "basic" checkups we do when you bring your car to our Cadillac dealership serving Highland, MI every 5,000 miles or so. These checkups include changing the oil, inspecting the oil and air filters, and making sure the exterior lights are in good shape.
We also inspect the tires, and every 6,000 – 8,000 miles we'll rotate them to ensure that all four wear evenly. Lastly, we'll look at the car's brake system, including the pads, discs, and calipers, and confirm that the entire system is in good working order.
What is Full Car Service?
Full car service at LaFontaine Cadillac is needed every 24,000 miles, so not nearly as frequently as basic car service. The best way to look at full car service is that it's a comprehensive inspection of your vehicle. T
his means that we look at everything that's included in our basic car service, along with additional systems such as the engine block, climate control, and suspension, as well as exhaust. We take note of the wear and tear we find in these areas and replace any worn-out components with genuine Cadillac parts.
As your car's mileage increases, so does our full car service to-do list. For example, at around 48,000 miles your vehicle will likely require new brakes, a new battery, and new tires. When your car's odometer reaches 72,000 miles, it will probably need hoses and a new timing belt, as well as new spark plugs.
Meanwhile, the 100,000-mile mark is when we'll look closely at the transmission to see whether any of its components or fluids need replacing.
Schedule Car Service Today
With the combined professionalism of our service center, parts team, and tire shop, your Cadillac car will be in good hands for the entire time you own it. Contact us today to schedule a service appointment and we'll provide just what your car needs, at the right time and for the right price.