Cadillac Financing for Beginners
From the brand's earliest days, a Cadillac vehicle has been an aspiration as much as transportation. But what do you do when those aspirations seem tantalizingly out of reach?
You turn to LaFontaine Cadillac, where our Cadillac financing puts your new Cadillac model well within reach and makes your dreams a reality.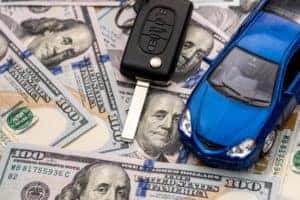 Beginning the Cadillac Financing Process
A journey of a thousand miles begins with a single step. Or you can begin with a few clicks that will give you insight into your financial picture, and in turn guide you to a Cadillac car or SUV that fits you best.
There are a few key things to determine before setting foot in your Highland Cadillac dealership:
Understand Your Credit Score: Which in turn will determine your eligibility for a Cadillac lease, or the APR on a pre-owned or Cadillac Certified Pre-Owned vehicle
Know Your Monthly Budget: Account for expenses like insurance, fuel, and maintenance. Our Cadillac payment estimator can help, since you can game out different scenarios based on the down payment you can afford
Trade-up or Trade-in: Decide whether you will trade-in or trade-up your current vehicle via our Kelley Blue Book® Instant Cash Offer
Should You Finance or Lease a Cadillac Model?
Having done this, you're better positioned to decide between a loan or lease. A lease gives you flexibility, plus a closed-ended period of use with some restrictions on mileage and wear.
Ownership comes with fewer restrictions, but also requires a higher down payment for comparably lower payments. It is possible to lower your payments with a longer loan term, but you should be aware that this incurs more interest over the life of the loan.
Preparing for Your Visit
Begin by gathering your most recent pay stubs, your social security number, proof of residence, and your vehicle title (if you'll be making a trade), then bring the lot of it to your Cadillac dealership.
Conversely, if you prefer, you can take care of your entire purchase online as part of Your Purchase Your Way, even taking delivery at your home or workplace. Are you employed? Your most recent pay stub(s), social security number, and your expenses (rent, utilities) will be used for your application.
Why Finance at LaFontaine Cadillac?
We understand that this is a fair amount of information to take in all at once. You may still have questions, and those answers may, in turn, raise questions of their own. Bring them to LaFontaine Cadillac. We're here to help with trustworthy information, lending alternatives for those with poor credit, and more.