Cadillac Wheel Alignment Service
The Cadillac brand offers a particularly unique take on luxury motoring. Comfort is a given, but with powertrains that are particularly generous with torque and horsepower, they have plenty to offer the discerning driver. If you want your drive to be all that you deserve, periodic wheel alignment service performed by Cadillac certified service technicians is especially important.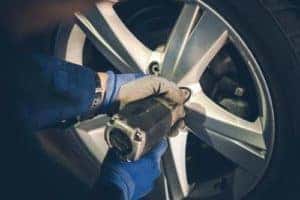 What is Wheel Alignment?
Any new Cadillac model has a number of systems working together to deliver excellent driving dynamics. When everything is in tune, it's like a symphony. When something is out of tune, however, that symphony will be a bit off-key.
Proper alignment ensures that your wheels and tires are properly centered relative to the vehicle, its steering, and its suspension. That sounds minor, but even a deviation of a few degrees causes handling to suffer.
During alignment service, we're examining the toe, center, and camber, which are the axes on which your wheel sits relative to the vehicle. We make adjustments as neces-sary so your vehicle's steering is as sharp and responsive as it should be.
Is it Time for Cadillac Wheel Alignment?
How do you know if you need wheel alignment? Look for the following signs, and if you notice them, visit your Highland Cadillac dealership immediately.
• Your steering does not return to center
• Your vehicle pulls to one side or the other, and won't stay in a straight line without active input
• Steering causes squealing or squeaking noises
• Your tires seem to wear more on one side of the vehicle than the other
Visiting LaFontaine Cadillac serves two purposes. First, our technicians can ensure the problem is properly and promptly identified and corrected, which matters when other problems (like uneven loading, poor tire pressure, or an issue with the steering system) can cause the same symptoms. Second, proper maintenance is key to protecting your passengers and your investment alike.
Our Cadillac Service Center
There are many more reasons to visit LaFontaine Cadillac, of course. We work on Cadillac models of all types and ages, from a vintage Cadillac Fleetwood up to the new Cadillac XT5.
We use OEM Cadillac parts. And we back our service with Cadillac service and parts specials to save you time and money alike. With so much to offer, there's no reason to go anywhere else.