Come in for Seasonal Service at LaFontaine Cadillac
Missed a few service appointments in the last month? We've all been there, but now is great time to correct that mistake and come in for service at the turn of the season.
Our Cadillac service center has the essentials to ensure your Cadillac car or SUV stays the height of luxury, now and into the future.
Why Should I Come in For Service Now?
The times in which we're living have upended many aspects of our lives, and even our driving habits are different than they used to be. As things gradually return to normal, we find that old habits — like vehicle maintenance — can be hard to get back.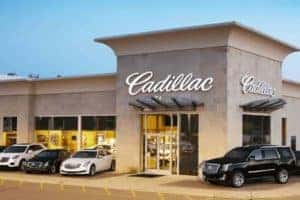 As experts in Cadillac service, we're well-acquainted with what happens when vehicle maintenance is neglected. Since we'd rather see you maintain now than repair later, we're taking this opportunity to invite you to your Highland Cadillac dealership for the essentials.
Spring
The first season is spring, so you can prepare your vehicle for the warm weather ahead. For some of you, that means changing out your snow tires. For everyone, it's a good idea to check alignment (poor weather condition often leads to alignment problems), brakes, and fluids. We'll generally replace your wipers, and may also suggest new Cadillac tires.
Fall
The second season is fall, which gives you time to prepare you for a Michigan winter. Many of the same systems are checked, but there are some differences. First, we ensure good tread for traction on slippery surfaces. Next, we check your brakes, top off fluids, and change some fluids (like coolant and washer fluid) for formulations better-suited to cold weather.
But one of the most important winterizing essentials is battery service. Hard starts in cold weather have their roots in evaporation and self-discharge that takes place in the summer, and it's a good idea to nip that in the bud.
Why Visit LaFontaine Cadillac for Service?
As we mentioned earlier, there's never a bad time to visit LaFontaine Cadillac. Once you've got your new vehicle, after all, those subsequent visits are what ensures your luxury car stays luxurious.
Make a habit of car care now to save money later, and remember that we keep it easy with genuine Cadillac parts, knowledgeable technicians, and even a slate of Cadillac service specials. You don't need to wait for a particular season. We're always here for you!