Comparing Sporty Sedans: 2022 Cadillac CT5 Blackwing versus 2022 BMW M3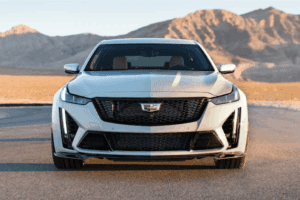 Shopping for the best sports sedan on the market and wondering how the dynamic 2022 Cadillac CT5 Blackwing compares to its top competitor, the 2022 BMW M3? Check out our comparison below to see for yourself how these two high-performance speedsters stack up in power, speed, and handling on the track.
At LaFontaine Cadillac, it's no secret which car we prefer. We're sure customers looking for a Cadillac dealership in Highland Charter Township, MI, will find the race-ready car of their dreams in our new and pre-owned inventory.
Want Power? Choose the 2022 Cadillac CT5 Blackwing
The luxury Cadillac CT5 Blackwing has a 6.2-liter supercharged V8 engine that puts out 668 horsepower. The twin-turbo six-cylinder engine of the BMW M3 maxes out at 503 horsepower. That means the BMW falls short by 165 horsepower output, leaving this BMW far behind in capability.
How about Acceleration?
When comparing the 0-60 mph reported test results, the six-speed manual 2022 Cadillac CT5 reaches 60 mph in just 3.6 seconds. The six-speed manual 2022 BMW M3 can reach the same acceleration in 3.8 seconds. Now that's a race!
Handling
While automatic is available in both the Cadillac vehicle and the BMW vehicle, we know you will want to stick with the manual driving experience these two sports cars offer. So, which is best? If a simple, clean handling experience is what you are after, the Cadillac CT5 Blackwing offers an engaging, six-speed manual ride without the need for excessive adjustments.
Drivers of the BMW M3 report that, while holding its own in handling, this model requires more drive mode adjusting than they care to make, and the dashboard tends to overwhelm and under-deliver.
Who Comes Out on Top?
Still not convinced? Once you sit in the driver's seat, we are confident you will fall in love with the power, handling, and acceleration of the Cadillac CT5. Get in contact with our team of Cadillac dealers to schedule a test drive today. We look forward to hearing from you!