Five Ways to Increase the Average Life of Your Tires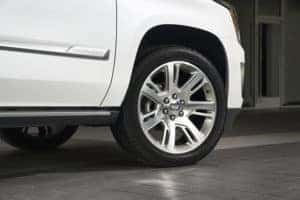 If you're looking for car parts, you'll find all the OEM components you need in our Cadillac parts center. While you may not have to replace them as often as you'll need to get new windshield wipers, you will need to replace your tires at some point if your own your vehicle long enough. Tires cost more than many other components that you'll have to replace over the course of your car's life, so it makes sense to do what you can to extend the lives of your tires.
Check Your Tire Pressure Monthly
Our team of Cadillac dealers can tell you that one of the simplest things you can do to make your tires last is to check their air pressure at least once per month. Even slight changes in the temperature or a minor bump in the road caused by a pothole can negatively influence your tires' air pressure.
SaferCar.gov reports that proper inflation can extend a tire's life by an impressive 4,700 miles. Proper inflation can save drivers up to an average of 11 cents per gallon of fuel, too, which can add up quickly for motorists who drive a lot and want to increase their investment portfolio.
Rotate Your Tires Regularly
To make your tires last, you should bring your car to our Highland, MI Cadillac service center for a tire rotation every 5,000 – 8,000 miles or every other time you have your oil changed. Regular rotations will help your tires to wear evenly, something that's crucial to making them last.
Get Your Wheels Balanced
Even the latest Cadillac models like the Cadillac Escalade and the Cadillac XT4 may need to have their wheels balanced sooner rather than later. Every tire and wheel, including new ones, has a heavy spot that can cause vibration. Getting your wheels balanced can eliminate that vibration and extend the life of your tires.
Adjust Your Wheel Alignment Bi-Annually
A wheel alignment ensures your tires maintain contact with the road the way they were meant to when your vehicle rolled off the production line. To preserve your tires, schedule a wheel alignment at least twice per year.
Monitor Tread Depth
When you contact or visit LaFontaine Cadillac, we'll advise you to keep an eye on your tires' tread depth. If the tread gets down to 2/32 of an inch or less, you'll need to get a new tire. To avoid premature wear on your vehicle's other tires or even your new one, have the new tire installed in the rear.