Four Things Not to do When Leasing a Cadillac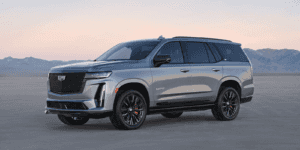 At LaFontaine Cadillac, our trusted team of dealers and finance experts are here to help make your Cadillac lease experience as easy and affordable as possible. At LaFontaine Cadillac, we believe in fitting the right driver with the right vehicle, and helping you plan for your lease before you sign.
We have put together our list of four things to never do when leasing a Cadillac.
1. Don't End Your Lease Early
When you enter into a lease agreement, you negotiate the term – or contract length – with the dealership. Before signing, be sure you can commit to the full lease term. Terminating early can lead to expensive penalty fees, which is why it is important to budget and plan for the entire contract length of your Cadillac lease.
If you must end early, check out our Cadillac Lease Pull Ahead incentive. We can assist you in ending your current lease ahead of schedule.
2. Don't Go Over the Mileage Limit
Make sure you understand all the limitations of your lease before signing an agreement. Remember, when you lease, you are borrowing the Cadillac with certain restrictions for an agreed-upon amount of time. It is important to stay within your mileage limit to avoid hefty fees at the end of your contract.
Calculate your average mileage for the week, month, and year before you go to your lease appointment. Give yourself some wiggle room in your estimate.
3. Don't Skip Payments
Before you sign a lease, be sure to consider if the monthly payment is manageable for the duration of the contract. If you do need financial assistance, don't skip payments. Give our team a call to discuss your options.
You can use our payment calculator now to estimate your monthly payment based on your desired interest rate and loan term as you research your lease and buying options. You can even include your trade-in value and a down payment amount.
4. Don't Settle for Anything Less Than a Cadillac
The trusted quality of a new Cadillac makes it the top luxury vehicle, and with so many options to choose from, our team at LaFontaine Cadillac is confident we can help you find the right lease deal.
Give us a call today!