How Do OEM, Aftermarket, and Remanufactured Parts Differ from One Another?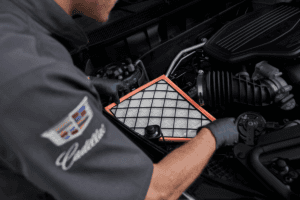 Whether you drive a Cadillac Escalade, a Cadillac LYRIQ, or another Cadillac model, the chances are good that you'll have to order Cadillac parts from our location if you keep your vehicle long enough. Components on every automobile wear out as time passes and their owners accumulate miles. With that in mind, it's wise to familiarize yourself with the types of parts you can choose from.
In general, your options for parts include original equipment manufacturer or OEM parts, aftermarket components, and remanufactured parts. While you might not think much about the different kinds of parts in the marketplace, you should because not all components are made equally.
OEM Parts
Our Cadillac dealers know firsthand that OEM parts are far and away the best components you can purchase. The OEM parts you'll find in our Cadillac parts center are manufactured by the Cadillac team using the same rigorous standards used to manufacture the luxury cars we sell.
Components produced by the Cadillac team are made to be exact replicas of the parts they'll replace. These components are backed by a warranty that will cover the cost of a new part and the labor required to replace another component if the initially purchased part fails.
Aftermarket Components
Some drivers will suggest that you go with aftermarket parts instead of OEM components because they're normally less expensive. While that's often true, there's no way to gauge the quality of aftermarket parts and they're rarely covered by a warranty.
That means you'll probably have to pay for both a new part and the labor necessary to install it even if the part you originally purchased fails the very next day. The team at LaFontaine Cadillac wants you to know that if you're lucky enough to purchase an aftermarket part that's covered by a warranty, it's likely the warranty will only cover the cost of a replacement part.
Remanufactured Parts
When you make an appointment to bring your vehicle to our Highland Charter Township, MI Cadillac dealership for service, you won't have to worry about our factory-trained, certified technicians using remanufactured or aftermarket parts. Remanufactured components are used OEM parts that have been stripped down, cleaned up, and restored to as close to a like-new condition as possible. That said, remanufactured parts still exhibit some signs of wear and tear in many instances.
Does your vehicle need a new part or Cadillac service? Look over our Cadillac service and parts offers now!