How to Order a Cadillac in Five Simple Steps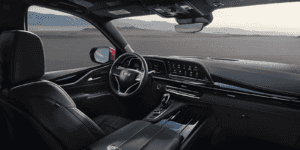 The process of buying custom luxury cars has changed quite a bit in recent years. While you used to have to visit a dealer in-person to learn about new models and discuss your options, now you can complete the entire process online, with more ways to customize your Cadillac than ever before from the comfort of your home.
At LaFontaine Cadillac, we empower our customers to explore our online inventory. However, you already know exactly what you want, then check out our online order form to build the premium vehicle you've always wanted in just five easy steps.
Before You Order – Browse our Inventory
There are so many exceptional new Cadillac vehicles on the market, and your first step in the order process is finding the right choice for you. Customers looking for engaging and refined speed should learn more about the Cadillac CT5 V-Series. For a luxury SUV that simply can't be stopped, check out the full-size Cadillac Escalade.
How to Build and Price Your Cadillac Online
Once you know which model you want, the next step is to use our build and price form. This form will walk you through the following steps:
1. Select an Available Model
Choose the Cadillac that fits your lifestyle based on your research.
2. Select a Trim
Each model has available trims offering custom design and power features, which are conveniently listed within this step, so you can review and select the most appealing trim.
3. Select Your Powertrain
Some Cadillac vehicles will have multiple engine upgrades for thrilling power.
4. Choose Your Exterior and Interior Finish
Pick from a wide variety of options to tailor your luxury car to your style preference.
5. Pick Your Packages
The best part of ordering a custom Cadillac is adding as many premium packages as you wish to enhance every touch of the vehicle, from the wheels, navigation controls, all-weather proofing, and so much more.
Review the Summary of Your Order
After selecting your packages, you can review a summary of your order, which includes the estimated cost. From here you can request a quote, schedule an appointment, or search our inventory. You can also go back and modify your choices as needed.
Need Assistance?
Our friendly team of Cadillac dealers are available to assist. Contact us today and get one step closer to owning your very own premium Cadillac.