LaFontaine Cadillac Answers your EV Charging Station FAQs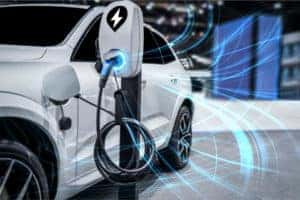 Thinking of buying an EV, but want more information on the EV charging station at home or in public? Let us help! At LaFontaine Cadillac, we offer a wide range of services for locals looking to purchase or maintain their electric vehicle. Here some questions we frequently field when comes to EV charging stations
How do I Charge my EV at Home?
It's easier than you think to charge your EV model at home, and you don't need to be an electrician to make the switch. You just need access to a standard household AC power outlet for the available Level 1 charger cord to plug into.
Alternatively, you can upgrade to a Level 2 charger port for faster charging sessions. However, this option may require a one-time visit from an electrician to set up a 240V outlet on a dedicated circuit, similar to the one used to power the major appliances in your home.
How do I Charge my EV on the go?
You can find Level 2 chargers at supermarkets, shopping centers, public parking lots, rest stops, and hotels. Research your workplace parking options and search for nearby free or fee-based EV charging stations to let your EV recharge while you're at work.
For the fastest charging experience, find a DC fast charging station, also known as Level 3 charging. DC fast charging can give your EV an 80 percent battery charge in 15-45 minutes. The DC fast charging is not recommended daily, as it may harm the long-term battery life, but it's a convenient way to stay on the go when traveling long distances.
How Long Does it Take to Fully Charge my EV?
Charge times vary by vehicle make and model, but average Level 1 charging offers about two to five miles of charge every hour. An eight-hour Level 1 charge results in 16-40 miles of battery life. If you have a long commute, investing in the Level 2 charging station may be necessary, as the 240V plug gives you a boosted 10-25 miles of battery life every hour.
To learn more about EV charging options, stop by our Cadillac dealership near Highland, MI. Get in contact with our team of Cadillac dealers and drive away in the all-electric 2023 Cadillac LYRIQ today!