LaFontaine Cadillac Discusses the Tools and Forms You Should Always Keep in Your Vehicle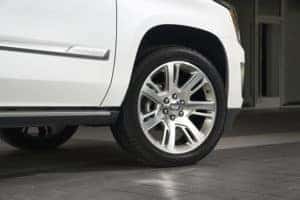 Whether you're driving across town or across the state, there are several things you should always have in your Cadillac vehicle. Having these items on hand could be of big help in case of an accident or breakdown.
Spare Tire
Besides a spare tire, make sure you have the necessary tools. These include a car jack so you can raise the car, and a socket wrench to remove the lug nuts so you can change the tire. And if you've never changed a tire, ask someone to show you how so you're not caught off-guard on the road.
Owner's Manual
Every car sold by our Cadillac dealers comes with an owner's manual. This is a thick book that details every aspect of your car. It's best kept in the glovebox.
Jumper Cables
The longer you're around cars, the likelier it is that you'll experience a dead car battery at some point. Jumper cables are a must-have, especially in a state like Michigan where winters can be harsh.
Also, depending on how often you drive, you can consider a portable power bank charger. This would allow you to jump-start your own vehicle, without having to flag down another driver for assistance with jumper cables.
Insurance and Registration
Along with the owner's manual, your insurance information and car registration should always be in your glovebox. If for any reason you get pulled over by a police officer, the first thing they'll ask for are your insurance card and registration.
Flashlight and Batteries
At LaFontaine Cadillac, one of the most important things we tell our customers to keep in their car is a flashlight and batteries. Store these items in the glovebox or the center console. If you get a flat tire at night or the car battery dies, you'll need a flashlight in order to fix the problem.
Phone Charger
Though you may have spent hours preparing for a road trip, unexpected delays are always a possibility. Keep a working USB phone charger in your car, and make sure your phone contains all of the necessary emergency contact numbers – including for our Cadillac service department.
Prep Your Cadillac Vehicle Today
When it comes to ensuring peace of mind behind the wheel, a little preparation goes a long way. If you're lacking any of the items on this list, or you'd like more information, contact our sales and Cadillac parts specialists today.