Looking for Essential Cadillac Parts? LaFontaine Cadillac is the Place to Shop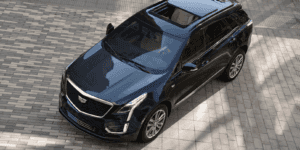 When your automobile needs essential Cadillac parts, LaFontaine Cadillac is the place to shop. We're well-stocked with the genuine Cadillac parts your vehicle needs, expertly installed by our factory-trained technicians. We also offer a big selection of Cadillac accessories for personalization.
Introduction to Car Parts
Common parts:
Radiator
Shocks
Carburetor
Tires
Wheels
Our nearby Cadillac dealership stocks all the parts that are essential to ensuring your luxury car always runs smooth. For example, a new radiator and a new carburetor promote terrific engine performance and longevity. Meanwhile, shocks and brakes are key ingredients for comfortable, confident driving all year long. You'll also find a big selection of tires here from all the leading manufacturers, with styles ranging from performance and all-season tires to tires specially designed for SUVs.
Along with essential parts, LaFontaine Cadillac is always ready to help you personalize your car. We offer a large inventory of interior accessories such as floor liners and cargo management systems. Plus, our many exterior accessories range from wheel coverings and grille treatments to splash guards and body cladding.
Signs that a Part Could be Malfunctioning
Signs of a malfunctioning part:
Squeaking brakes
Tread-worn tires
Low oil
Chassis is leaking fluid
Electronic issue (e.g. traction/stability control problem, all-wheel drive goes offline)
Whether you're a new driver or have owned several Cadillac cars, it's always good to know the signs of a malfunctioning part. And if you're unsure about anything, it's nice knowing that our local Cadillac dealership is only a short drive away for a full analysis.
Brakes are one of the most replaced parts, and something our Cadillac service center can handle with ease. When your brakes begin squeaking or grinding, visit us right away. Tires are also integral to your car's safety and performance. They should be rotated every 6,000 – 8,000 miles so that the tread on all four tires wears evenly. And when your car's odometer reaches 45,000 miles, you should start thinking about a new set of tires.
Get Essential Cadillac Parts Today
Regular diagnostics and parts inspections at our local Cadillac dealership are vital for safe, satisfying driving. Cadillac parts are known for their high quality, but even the best need periodic maintenance and parts replacement. Visit us today for essential Cadillac parts, affordably priced and always with Cadillac parts specials attached.