Sign Up for Our Wheel Alignment Service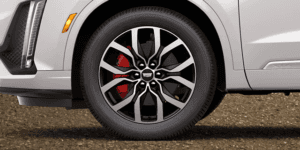 Whenever your vehicle is out of alignment, you should prioritize getting it fixed and make an appointment for wheel alignment service in our Cadillac service center. While you might not think too much about it when your car isn't aligned properly, letting the issue persist for too long can have serious consequences.
What Can Happen if Your Car is Out of Alignment
When drivers contact our Highland, MI Cadillac dealership to ask about our wheel alignment service, we explain that the service is critical to the health of their vehicles. If your wheels aren't properly aligned, it can severely impact your car's handling. You may find turning and just driving in a straight line more difficult as a result.
Misaligned wheels can also cause your tires to wear unevenly and/or prematurely. In either case, you may end up having to replace your tires earlier than you should have to, which can really drive up your cost of car ownership if you have to get new tires too soon repeatedly throughout your automobile's lifetime.
Signs You Need Wheel Alignment Service at Our Cadillac Service Center
There are a number of things that can cause your wheels to become misaligned. Hitting a pothole hard, bumping into a curb, being involved in an accident, and going over a speed bump too fast are common culprits that force wheels out of alignment. General wear and tear can also have a negative impact on your car's alignment.
As you look over the latest Cadillac models in our inventory, you'll see intriguing luxury vehicles, such as the Cadillac XT6 and the Cadillac Escalade. Whether you drive a new vehicle or an older one, you'll need to make an appointment for wheel alignment service if you notice any of the following signs:
Your car pulls to one side
You notice your steering wheel vibrates
Your steering wheel is off-center when you're traveling straight ahead
You see uneven wear patterns on your tires
While you can pick up things like windshield wipers for DIY projects in our Cadillac parts center, tasks like wheel alignments are best handled by the certified, factory-trained technicians in our Cadillac service center. Our team of Cadillac dealers encourage you to take fast action to bring your car in for wheel alignment service whenever you notice any of the indicators that signal your wheels are out of alignment
To learn more about the importance of wheel alignment service, give us a call, reach out to us online, or visit LaFontaine Cadillac.