There's Nothing Like Luxury Motoring in a Cadillac Vehicle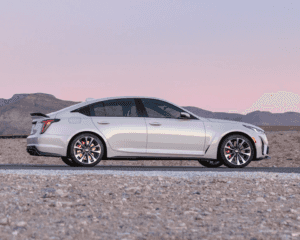 If you want to drive in the lap of luxury every time you slip behind the wheel of your automobile, we encourage you to shop for a new Cadillac car at our convenient location. Our new car inventory includes all the latest Cadillac models, and each one shows off all the hallmarks that have made the Cadillac name so venerable and highly respected among generations of motorists.
Distinctive Styling
When you contact our Highland, MI Cadillac dealership, we'll tell you that the Cadillac brand has had more songs written about it than any other automaker. The manufacturer's distinctive styling is partly responsible for the carmaker being such a popular topic for musicians in many genres.
Since the Cadillac brand hired famed stylist Harley Earl in the 1920s, the automaker has had a signature style that's unlike any other. Whether it's a model from a century ago or a Cadillac vehicle that just rolled off the production line, that Cadillac style is as alluring today as it always has been.
Craftsmanship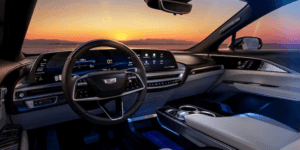 Having been Michigan Cadillac dealers for a while, the pros at LaFontaine Cadillac can tell you that the carmaker we represent has long claimed that its cars are "made, not manufactured." Once you see the craftsmanship that's weaved into every automobile that proudly bears the name of the Cadillac brand, you'll see why "made, not manufactured" is the perfect way to describe models like the Cadillac Escalade and the Cadillac XT5.
Service
Years ago, the Cadillac brand was at the forefront of standardizing car parts. That commitment to better serve motorists is still evident today. Our Cadillac service center is where you'll find factory-trained, certified technicians who know Cadillac vehicles and all the parts they're made with better than anyone else. Like new Cadillac vehicles are modern, our Cadillac service center is outfitted with state-of-the-art equipment that allows us to serve area drivers ever better.
Innovation
Ever since its inception in 1902, the Cadillac brand has been celebrated for unprecedented innovations like being the first carmaker to introduce a closed-body passenger cabin. Today, Cadillac cars come with sought-after features like wireless Apple CarPlay® and Android Auto™ connectivity, a forward collision warning and intervention system, and keyless entry and ignition.
Are you ready to enjoy luxury motoring like never before? Reach out to the experts in our Cadillac financing center to buy or lease a Cadillac model that will pamper you for years to come.