Visit LaFontaine Cadillac and Experience the 2023 Cadillac LYRIQ: All-Electric Cadillac Excellence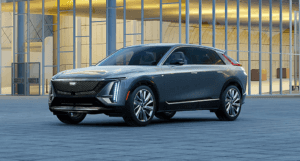 Everything about the 2023 Cadillac LYRIQ is groundbreaking. It's the esteemed brand's first-ever all-electric model, and it was engineered on an all-new platform created especially for electric vehicles. Moreover, this all-new luxury midsize SUV introduces next-level styling, technology, and performance to the EV category.
Model details
Starting price: $58,795
Engine: 100 kWh lithium-ion battery pack + electric motor
Power: 325hp, 340 lb-ft of torque
Transmission: One-Pedal Driving with Regen on Demand
Drivetrain: RWD
2023 Cadillac LYRIQ Details
A 100-kWh lithium-ion battery pack paired with a rear-mounted permanent magnet electric motor constitutes the powertrain for this all-electric Cadillac vehicle. This system outputs 325 horsepower and 340 lb-ft of torque – an exceptional level of performance that's complemented by advanced systems such as One-Pedal Driving and Regen on Demand.
The 2023 Cadillac LYRIQ model's all-electric powertrain delivers maximum torque – and therefore maximum acceleration – from a standstill. Moreover, only one pedal is needed to operate this SUV, with no need to touch the brake pedal except in urgent situations. Drivers can select from three levels of brake regeneration to optimize the experience. This powertrain is also terrifically quiet, especially since noise-canceling technology comes standard.
Safety/Special Features:
-Remote automated parking
-Super Cruise system
-Lane-change-on-demand
-33-inch LCD infotainment screen
-Dual-pane head-up display
-Laser-etched wood cabin trim
-19-speaker AKG Studio sound system
2023 Cadillac LYRIQ Safety and Special Features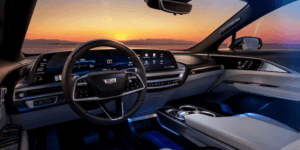 Visit with our Cadillac dealers and we'll show you all of the 2023 Cadillac LYRIQ model's cutting-edge driver assistance systems and innovations. In the latter group is remote automated parking, which can be activated from inside or outside the vehicle. Also available is the next generation of the Cadillac brand's state-of-the-art Super Cruise technology, which supports semi-autonomous driving.
Cadillac financing for a 2023 Cadillac LYRIQ means enjoying some of the most advanced special features ever seen in the automotive industry. One highlight is a massive 33-inch diagonal-length LCD infotainment screen with the highest pixel density of any screen ever integrated in a production vehicle. Other gems include a dual-panel head-up display, laser-etched wood cabin trim, and a 19-speaker AKG Studio sound system.
Experience the 2023 Cadillac LYRIQ Today
The groundbreaking 2023 Cadillac LYRIQ redefines what's possible in the EV class. State-of-the-art technologies, groundbreaking features, and a world-class powertrain promise a driving experience that was impossible until now. Contact the friendly team at LaFontaine Cadillac today for a full walkthrough and a test drive.