What Are the Charging Levels for an Electric Vehicle?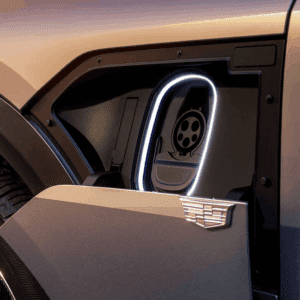 In recent years, motorists around the world have expressed their desire to shrink their respective carbon footprints. Automakers like the one we represent have answered the call with a growing number of hybrid and electric vehicles hitting the market.
When drivers bring their cars to our Cadillac dealership in Highland, MI, they often ask about the ways an EV can be charged. You have three options when it comes to charging your EV. Let's have a look at them from fastest charging to slowest.
DC Fast Charging (or Level 3)
Often referred to as Level 3 charging, DC fast charging uses a 480-volt AC circuit to charge an EV's battery. Given that circuit's capacity, a DC fast charger can power a battery up to 80 percent capacity in as little as 15 – 45 minutes.
Our team of Cadillac dealers recommend limiting your use of a DC fast charger for extended road trips. If you use Level 3 charging too often, you run the risk of shortening your battery's lifespan. In fact, it's best practice to charge your battery only up to 80 percent, and reserve full charges for extended adventures in order to preserve your battery.
Level 2 Charging
If you visit LaFontaine Cadillac to discuss EV charging options, we'll tell you about Level 2 charging. Level 2 chargers are what you'll typically encounter at a public charging station.
These chargers employ a 240-volt outlet to power up a battery. A 240-volt outlet is what you'd normally see used for a high-energy household appliance like a dryer. When it's plugged into a Level 2 charger, an EV's range will increase by 10 -25 miles every hour.
Level 1 Charging
Level 1 charging relies on a 120-volt household outlet. This is the slowest way to charge an EV's battery. An EV will gain two to five miles of range for every hour the vehicle is plugged into a Level 1 charger.
Now that you're familiar with the available charging options, it's time to shrink your carbon footprint with a luxurious EV, like the Cadillac LYRIQ. Already interested in this Cadillac EV? Contact our Cadillac financing center. Want to learn more about EV charging? Stop by or give us a call!