Which Is the Better Pick, the 2023 Cadillac LYRIQ or the 2022 Tesla Model Y?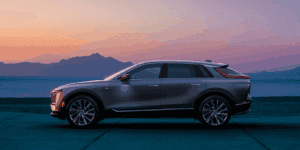 Drivers who are shopping for a luxury vehicle with the goal of limiting their impact on the environment have more options available to them than ever before. The 2023 Cadillac LYRIQ and the 2022 Tesla Model Y are two attractive options for discerning motorists with an eco-conscious bent. While you can't go wrong with either automobile, the all-new Cadillac LYRIQ is the wiser choice for a few significant reasons.
Drivetrains
Curious motorists often ask us about how the Cadillac LYRIQ handles the road when they contact our Highland Charter Township, MI Cadillac dealership. A car's drivetrain has a big influence on a driver's experience behind the wheel. For that reason, some motorists prefer to have a choice between drivetrains.
With the 2023 Cadillac LYRIQ, you have a choice between rear-wheel drive and all-wheel drive. Unfortunately, you don't have similar options with the 2022 Tesla Model Y as that electric SUV is only available with all-wheel drive. While all-wheel drive provides extra grip during times when the weather is bad, motorists who want a sportier driving experience typically prefer rear-wheel drive, which is the drivetrain that performance-oriented automobiles are normally outfitted with.
Selectable Driving Modes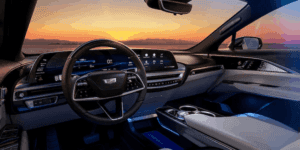 Being a MI Cadillac dealer, we can tell you that it's a good idea to choose an all-electric SUV that has selectable driving modes considering the changeable weather that's common in our area of the state. When you visit LaFontaine Cadillac, we'll show you that the Cadillac LYRIQ has selectable driving modes, which include:
Tour
Snow/Ice
Sport
My Mode
All the latest Cadillac models come with an owner's manual just like the Tesla Model Y does. If you pour through that SUV's manual, you won't find a discussion about selectable driving modes because the SUV doesn't have any.
While you can change gears between reverse, neutral, park, and drive, you cannot change gears based on the road conditions you're experiencing when you're behind the wheel of a Tesla Model Y. If you don't consider that a big deal, think about the last time you drove on slippery streets or witnessed a motorist desperately trying and failing to control their car in wintry weather on the news.
Are you ready to buy or lease a luxury EV that will elevate your driving experience while it simultaneously shrinks the size of your carbon footprint? Visit our Cadillac financing center to learn about our Michigan Cadillac lease offers and finance incentives for the 2023 Cadillac LYRIQ!