Pre-Owned Cadillac Cars Make Great First Cars and LaFontaine Cadillac has a Few Reasons Why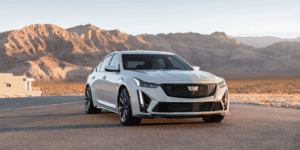 If you or someone you know is in the market for a first car, LaFontaine Cadillac is the place to shop. Our pre-owned Cadillac inventory is filled with options that possess the quality and affordability first-car shoppers want. Plus, our models are engaging and easy to operate, taking the frustration out of driving.
Cheaper to Insure
One of the biggest hurdles first-time car buyers face is the high cost of car insurance. Several factors go into calculating car insurance premiums, but the biggest factor is value – which is why new cars cost significantly more to insure than pre-owned ones.
Because of this, it's commonplace for a pre-owned vehicle at LaFontaine Cadillac to be around 20 to 25 percent lower than that of a new vehicle. That in turn means a big savings of your monthly insurance expense.
Affordability
A good rule of thumb when comparing new versus pre-owned cars is that the purchase price of a used car will almost always be less than a new car. This is because new cars experience significant loss of value – or depreciation – during the first year of ownership.
Depending on the make model, this depreciation can reach upwards of 30 percent. But when you get Cadillac financing for a pre-owned car, the sticker price is far more affordable because the car has already depreciated. And since the bulk of depreciation occurs during the first 1 – 3 years, there are plenty of high-quality pre-owned cars available with low miles.
Easier Maintenance
Older cars tend to be mechanically simpler than their newer counterparts. Visit our local Cadillac dealer and you'll likely find models that have less sensors and computers than the average new car. The less technology, the lower the sticker price.
Also, if you get in an accident in an older-model car, it will likely be cheaper to fix than a new vehicle because the parts will be more accessible. For example, your used car's headlights and taillights will probably be more standardized than a new car's automatically adjusting halogen headlights.
Similarly, the body parts (e.g. panels, frames, etc.) for a used car are typically widely available, and at a lower cost than a new vehicle. If you're looking to fix up or upgrade a pre-owned car with Cadillac parts, you probably won't have to spend much to do it.
Looking for your next pre-owned Cadillac car? Head to LaFontaine Cadillac and check out our inventory today!