The Two-Step Process to Care for Your Battery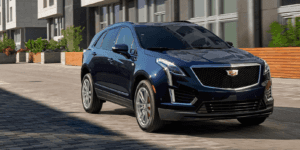 If you're like a lot of other drivers, you might not think about the battery in your car very often. Rather, you may not think about your battery until it dies. While even the best maintained battery will eventually reach the end of its useful life, you can postpone the arrival of that date with some Cadillac service rendered by our Cadillac service center and a few tasks you can do on your own.
How We Can Help
Drivers who have a new Cadillac CT5 or Cadillac XT6 don't have to worry about their battery as much as someone who drives an older Cadillac Escalade might. Although that's true, every motorist needs to pay attention to their battery.
When you contact our Highland, MI Cadillac dealership, we'll tell you that it's wise to have your battery inspected at our Cadillac service center once per year at least. This is particularly important if your battery is three years old or older, or you don't know how old your battery is.
As our certified, factory-trained technicians inspect your battery, they'll remove any corrosion they notice on the unit's terminals or wires. They'll also adjust your battery's electrolyte level if necessary. If our team notices that your battery's case has a bulge, they'll advise you to visit our Cadillac parts center to get a new battery. After you choose the unit that's best for your vehicle, our technicians will install the new battery for you.
Things You Can Do
You might not realize it, but you can do a few things to make your battery last all by yourself. Driving more often and for longer periods of time will help your battery retain a full charge and extend its life. To charge your battery, it's advisable to drive at highway speeds for at least 30 minutes at a time.
Some motorists will use the electrical systems in their cars even when the engine isn't running. Doing that will drain your battery, so refrain from doing the same. When they visit LaFontaine Cadillac, some people tell us that they often leave the lights on when they exit their vehicle, a habit that will also drain a battery. If you do this on occasion at least, make it a point to walk in front of your car when you're done driving for the day to make sure your lights are off.
Does your vehicle need a battery inspection or another type of service? If so, check out our rotating Cadillac service offers now!