A Look at the Different Cadillac Service Types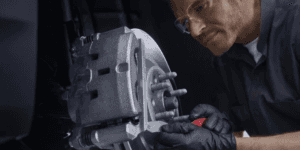 As the owner or lessee of a luxury vehicle like the Cadillac CT5 or a Cadillac Escalade, it's your responsibility to ensure your automobile is safe to drive. With that in mind, it's wise to acquaint yourself with the types of Cadillac service we provide in our Cadillac service center.
By knowing the kinds of service, we offer, you'll be better prepared to recognize when your car needs the attention of a professional.
Preventive Care
Having been Michigan Cadillac dealers for so long, we're well-versed in all types of Cadillac service, including preventive maintenance. Preventive service refers to tasks performed to reduce or eliminate the possibility of something failing. Examples of preventive car care include:
Oil changes
Tire rotations
Fluid replenishments or replacements
Replacing brake pads
Multi-point inspections
Corrective Maintenance
As you can infer from the name of this type of car care, corrective maintenance involves tasks that are performed after a failure is detected. The goal of this kind of service is to restore parts and systems to the same condition they were in when a vehicle rolled off the production line. In other words, the corrective service performed at LaFontaine Cadillac is intended to restore components so they can perform their original functions.
Risk-Based Service
Commonly referred to as RBM, risk-based maintenance addresses issues with risk-sensitive systems and parts. When performing this sort of maintenance, technicians will figure out the most economical way to distribute resources to fix a problem or minimize risk.
This type of service is predicated on the notion that the majority of resources should be devoted to Cadillac parts and systems that carry the most risk if they fail. For example, if your air conditioning needs work and your engine is in danger of seizing, resources are better spent fixing the engine. While you may be uncomfortable if your A/C fails on a hot day, your car will still work. If your engine fails, you won't be able to travel.
Condition-Based Maintenance
Drivers can monitor the health of new Cadillac cars using an app. That ability is the basis of condition-based maintenance as this kind of service relies on wired or wirelessly transmitted data to predict malfunctions and determine when service is necessary.
Does your automobile need one of the service types just discussed? If so, we suggest you look over our current Cadillac service offers now.