Speak Up Before You Sign a Lease Contract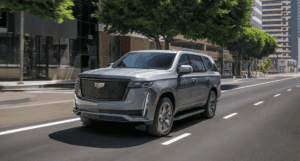 Are you ready to elevate your driving experience with a luxury ride like the Cadillac Escalade or Cadillac CT5? If so, we can assure you that you won't regret your decision. There is one more decision for you to make, however, and it's choosing between leasing and purchasing the vehicle you have your eye on.
If you choose to lease, it's important for you to contact our Cadillac financing center and ask any questions you might have about a Cadillac lease.
Are Leasing and Financing the Same?
Financing a car means you'll take out an auto loan and own your vehicle outright once you pay the loan off. If you lease an automobile from LaFontaine Cadillac, you'll drive it for a pre-set period in exchange for monthly payments. When your contract expires, you'll return your leased car to our Cadillac dealership.
Which Cadillac Vehicles are Eligible to be Leased?
Qualified drivers can lease any of the new Cadillac models at our location.
Can I Lease a Car if my Credit isn't Great?
Our team of Michigan Cadillac dealers know some people have hit bumps in the road when it comes to their credit. Even if your credit is poor or nonexistent, we can still help you qualify for a Cadillac lease. As long as you make your monthly payments on time, securing a lease can help you establish or improve your credit score over time.
Will I get my Deposit Back when my Lease Ends?
This is an important question to ask because some deposits are non-refundable while others are refundable if certain conditions are met.
What is my Mileage Limit?
Leases include limits on the number of miles lessees can drive while their contracts remain in force. In general, a lease mileage limit is around 12,000 miles or so per year although some limits might be higher or lower. If you fear you'll exceed your allotted limit, try to negotiate a high mileage lease.
Am I Responsible for Maintaining my Leased Car?
Lessees are responsible for maintaining the automobiles they lease. Maintaining a leased vehicle is easy because you can simply make an appointment to bring your car to our Cadillac service center whenever it's due for some routine maintenance. If you don't maintain your vehicle in keeping with the terms in your contract and it suffers excessive wear and tear, you may end up having to pay a penalty when your lease expires.