Head-to-Head: the 2023 Cadillac XT4 vs the 2023 Acura RDX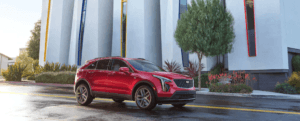 If you want to buy or lease a Cadillac car, you might be curious about the way the latest Cadillac models compare to their rivals. For example, if you're interested in a smaller luxury SUV, you may be wondering how the 2023 Cadillac XT4 fares in a direct comparison with the new Acura RDX. Although the latter vehicle is a compact SUV while the former is a subcompact vehicle, the Cadillac XT4 still outshines its rival in some significant areas.
Road Manners and Maneuverability
With the two SUVs being in separate classes, it won't surprise you that the 2023 Acura RDX is larger and heavier than the Cadillac XT4. The Acura RDX is 15.6 feet long and weighs between 3,775 and 4,058 lbs while the new Cadillac XT4 measures 15.1 feet in length and weighs between 3,660 – 3,710 lbs.
When you visit LaFontaine Cadillac to test-drive the Cadillac XT4 after you take the Acura RDX for a road test, you'll instantly notice how much easier the Cadillac SUV is to navigate. The Cadillac XT4 has light steering that makes it a breeze to operate on crowded city streets, winding roads, and the open highway. As a heavier vehicle, the Acura RDX is simply more laborious to drive.
Given the smaller size of the Cadillac XT4, the SUV is much easier to park too. With the Acura RDX being a half-foot longer than its competitor, it can't always squeeze into the tight spots that the Cadillac XT4 can access with ease.
Even though it's the smaller SUV, the Cadillac XT4 can tow more weight breathlessly than the Acura RDX can handle. The maximum tow rating for the Cadillac XT4 is 2,500 lbs. when the SUV has the right equipment, a number that falls to 1,500 lbs. for the Acura RDX.
Active Safety Features
The advanced safety and driver-assistive features the Cadillac XT4 and Acura RDX have in common include:
Forward collision warning and intervention system
Blind-spot monitor with a rear cross-traffic alert
Rearview camera
The new Cadillac models in our Cadillac showroom often have some additional active safety equipment their competitors might not have. For example, the Cadillac XT4 has the Teen Driver system and a rear-seat alert, neither of which is available with the Acura RDX.
Test-Drive the 2023 Cadillac XT4
To get the superior SUV, visit our Cadillac dealership to test-drive the 2023 Cadillac XT4. The team in our Cadillac financing center can help you sort out all the lease details and share what financing offers might be available. Stop by today!